Qensure provides an overview of organisations, processes and data
Qensure allows to register complex structures and to optimise them.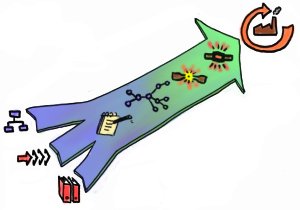 Qensure ensures quality
Qensure combines documentation, analysis and optimisation of organisation, processes and data repository. It makes interactions visible, that otherwise are difficult to recognise. In total it effectively enhances sustainable efficacy.
Advantages of Qensure
Be at the status quo always.
A simple network computer with standard web browser is sufficient.
It can be used from different locations at the same time
Inputs, changes, analysis, realisation, documentation in one tool
Qensure allows:
A simple way, to document organisation, processes and data repository. It ensures a reproducible action, and avoids futile cycles.
Support to find out flaws, improvement potential and to realise change management.
A solid basis for quality management, how the best are doing well.
Discuss your concerns with xirrus without obligation!
What is the secret of success?
Qensure considers the interactions between organisation structure and process optimisation including the information flows without limiting itself to one of these aspects. The analysis is cross-border and holistic and allows a promising and sustainable optimisation and realisation-consultancy. You gain precise evidence in less time.

Read more information about the application of Qensure!

Read the experience report of Geoinformatik Thun in Geomatik Schweiz (2009) 1, 14-18
(available in german only). → PDF download (1.6 MB)