xirrus

accelerates your development and research
Optimization of fibre structures of a polymer
The replacement of organic solvents with water influences the structure of a polymer when it hardens.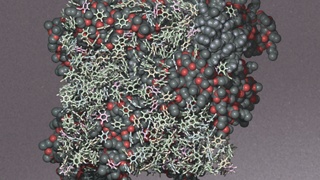 Adhesion of molecules (whiteish stars) on a polymer fiber (grey/red).
Calculation of the distribution and coverage of the surface and the impact on the structure of the fibre. The composition of the polymer will be changed to compensate the impact of the solvent replacement. The simulation shows which modifications allow for desired effekts with least efforts and the wet lab work is heavily reduced and accelerated.